Thanks to regular updates and improvements, it's fair to say Divi Builder should now appeal to both those who are new to creating custom page layouts for their WordPress websites and more experienced web designers.
There's a bit of a learning curve when using Divi Builder for the first time, mainly due to the innovative and original user interface, and the almost unlimited creative possibilities it provides. However, with a bit of perseverance and trial and error, most people should be able to get good results from this page builder — especially when using the prebuilt layouts as a starting point. There are also plenty of online tutorial videos and guides published on the Elegant Themes website.
A TOOL FOR WEB DESIGNERS
However, as Divi Builder can really help to save time and effort on the creation of custom page designs, experienced web designers should find value in it too. Being able to create reusable custom layouts and elements, quickly clone pages, and test designs using the Divi Leads feature makes Divi Builder a very useful tool to have at your disposal. Web designers will also appreciate the role editor when handing sites over to their clients.
DIVI BUILDER PLUGIN VS DIVI WORDPRESS THEME
For those who are starting a new WordPress website and haven't yet chosen a theme, I'd recommend going with the Divi theme, as you get access to all of the great features of the Divi Builder plugin without having to worry about any potential theme compatibility issues.
If you're already using the Divi theme, you won't find any new functionality in the Divi Builder plugin. However, if you're a Divi theme user but are thinking of changing themes, the Divi Builder should help you to migrate to another theme without losing access to any custom layouts or content modules you might be using.
Divi Builder Pricing Options
To get access to the Divi Builder plugin, you must join the Elegant Themes club. This is no bad thing, as there are plenty of benefits, and prices start from just $89 per year. As well as the Divi Builder plugin, you also get access to five other plugins, including powerful email opt-in form builder tool Bloom and fully featured social media sharing plugin Monarch.
Not only that, but your $89 also include access to all 87 themes — including Divi — as well as any others released by Elegant Themes during your membership period. However, to be honest, it's only the Divi and Extra themes that will be of interest, as the other options are older.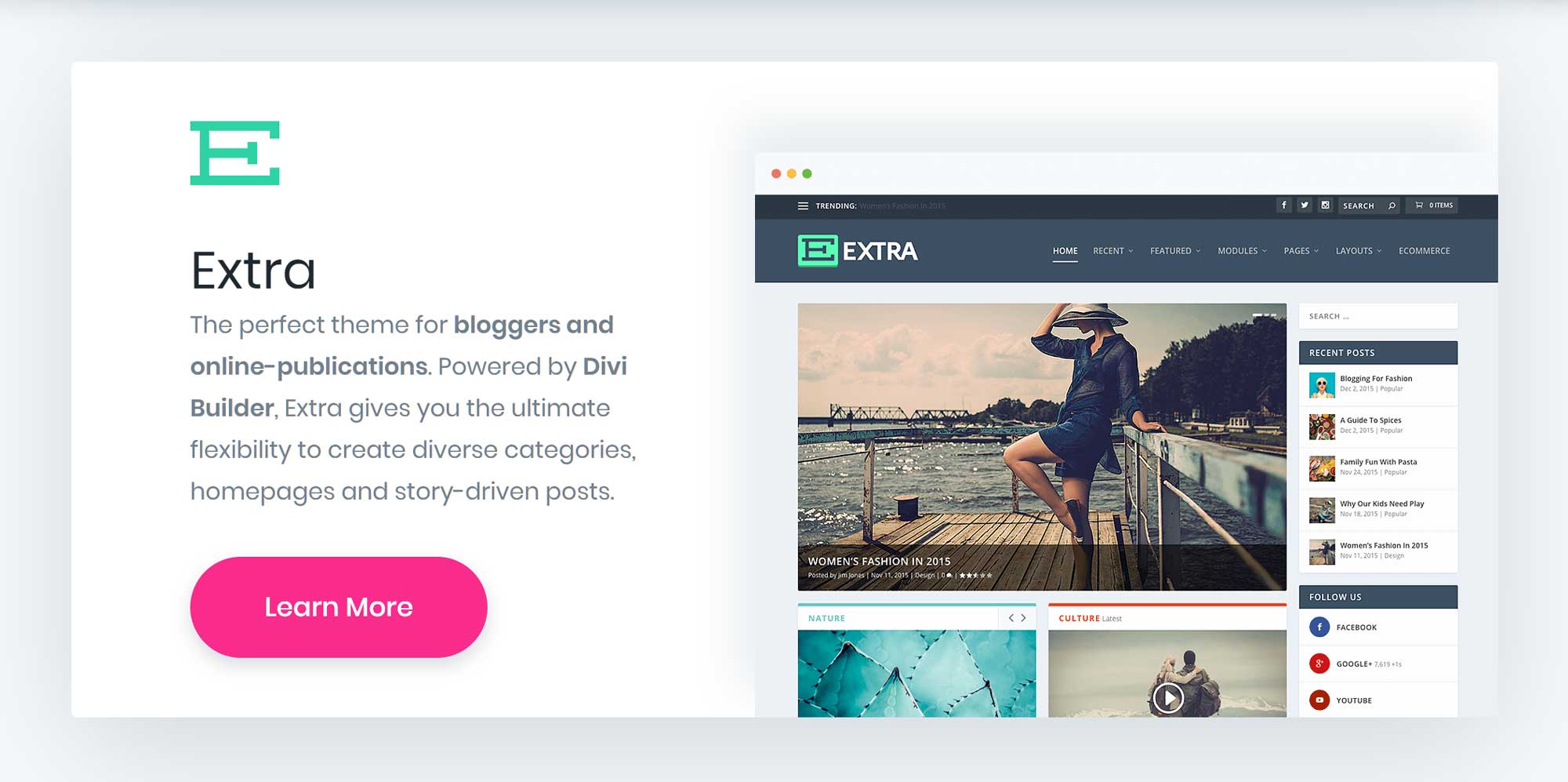 Divi Builder comes with 87 WordPress themes, including Extra.
If you aren't a fan of yearly subscription plans, then you can sign up to the Lifetime Access plan and pay a one-time fee of $249 for access to all themes and plugins, as well as their updates, for life.
Web designers, developers and agency owners can use the Elegant Themes plugins and themes on any number of sites, fully supported, without having to buy additional licenses.
You can view the full details of the Elegant Themes pricing plans here.
Divi Builder Review Final Thoughts
As you can probably tell, I'm very impressed by the Divi Builder plugin. I've been using the plugin for a while now, so I'm pretty familiar with it and with how it's improved since its release.
As new features such as the front-end visual editor, extra modules, and more layouts have been added, Divi Builder is an even more attractive WordPress page builder tool than it was previously.
With lots of high-quality editable page layouts to choose from, as well as more than 30 content modules that can be added to your posts and pages, Divi Builder is a truly flexible tool that can be used to create any type of website with WordPress.